The Village of Kirkland and Kirkland Public Library with be hosting a Memorial Day event on Sunday, May 27th beginning at 1:00 P.M at the Northern Illinois Veterans Memorial – Franklin Township Park.
"Salute to the Troops", presented by the Village of Kirkland, will begin at 1:00 P.M. at the Northern Illinois Veteran's Memorial.  The Kirkland Cub Scouts / Boy Scouts will be retiring old U.S. Flags, so feel free to bring any flags you may need retired.  Immediately following our ceremony, the Kirkland Public Library will be presenting their "World War II Radio Hour".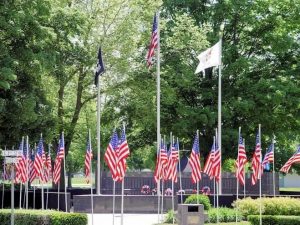 "World War II Radio Hour" performed by Nostalgia Entertainment and sponsored by the Kirkland Public Library with partial funding provided by the Mary E. Stevens Concert and Lecture Fund.
Pork chop sandwiches will be provided by the Kirkland Lions Club.