Kirkland Police Department
511 W. Main St. Box 550
Kirkland, Il. 60146
(815) 522-3315
(815) 522-9989 FAX
Police Chief – Adam Davenport
Sergeant – Sam Saladino
We like to think of Kirkland, Illinois as 'A Nice Place To Call Home'. We hope you do too. The best way to keep it that way is for all of us to be invested in the effort. If you have any information to share with the Kirkland Police Department you can always contact any officer with the Kirkland Police Department by calling 815-522-3315.
If you live in the rural Kirkland Area and need to contact the DeKalb County Sheriff's Office you can call 815-895-2155.
Kirkland Fire Department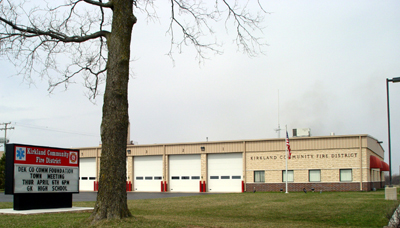 The Kirkland Community Fire Department has been in existence since 1954 and has been fully operated by local volunteers. Chief Chad Connell and the 31 members of the department are very dedicated to the training and growth of this department. The department has 2 ambulances and 6 functional fire vehicles, with a brand new ambulance on the way. This department also has a water rescue team complete with boat, water rescue equipment, and one diver.
Kirkland Fire Department
3891 State Rt. 72
Kirkland, IL 60146
Telephone: (815) 522-4414
Fax: (815) 522-6132
For emergencies, always call 911
Parks
Pioneer Park Disk Golf Course
North St., Kirkland
Description: Click Here
Behnke Park
Hortense Dr and 6th St, Kirkland
Offers picnic tables, shelter house and playground equipment for younger children
Franklin Township Park
South Street, Kirkland
Offers picnic facilities, a stage, shelters, playground and more
Wilkinson-Renwick Marsh
Glidden Road & Illinois Route 64, Kirkland
Offers trail options and is frequented by area birdwatchers
Potawatomi State Park
Kirkland Road, Kirkland
The newest of area parks, Potawatomi is on 300 acres of land in Kirkland
Churches
Church of Christ
32463 Pearl St., Kirkland
(815) 522-2131
First Lutheran Church
510 W. South St, Kirkland
(815) 522-3886
Kirkland United Methodist
300 W. South St., Kirkland
(815) 522-3546
Peace United Church of Christ
310 E. First St., Kirkland
(815) 522-2274
Commonwealth Edison Links
Storm Center
When the storms roll in, ComEd is ready to keep you up-to-date on our outage restorations. Visit the Storm Center at ComEd.com/Storm to get the latest information on outages in the service territory, view our Outage Map, and report an outage.
Outage Map
With ComEd's outage map, customers can view all outages in the ComEd service area at once and zoom in and get details on specific areas, such as the estimated restoration time & status of crews working to resolve problems. Icons are color-coded to indicate the number of customers affected by each incident. Check out the interactive map at ComEd.com/Map.
Outage Alerts
Need to report an outage? Text the word OUT to 26633 (ComEd) and get updates until your power is restored. Visit ComEd.com/Text for more info and to sign up.
Mobile App
Gain the flexibility and convenience of managing your ComEd Residential account on the go with ComEd's FREE mobile app for iPhone® and Android™ devices. Report an outage, make a one-time payment, and manage account features with the swipe of a finger. Learn more at ComEd.com/App
ComEd Emergency
If you have an electric emergency requiring heightened attention, it is important to call ComEd immediately at 1-800-Edison-1 ( 1-800-334-7661 ). Never email your emergency request. This would include reporting wires down, electric contact/shock, or other potential danger. ComEd Emergency