Greetings Spirited Souls of Kirkland!
Halloween Hours for the Village of Kirkland will be Monday, October 31st beginning at 5:00 P.M. thru 8:00 P.M.
In addition, the Kirkland Lions Club and Kirkland United Methodist Church will be having Halloween Events taking place on Sunday, October 30th. See the details below for more information!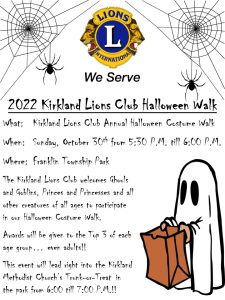 Thanks, and everyone have a Safe, Fun Halloween Holiday!!